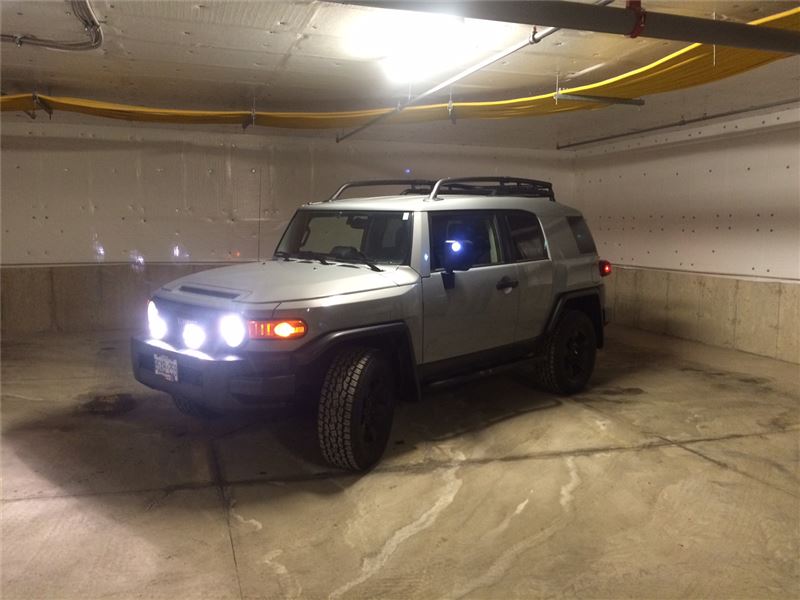 222000KM
6 speed manual transmission
BF Goodrich KO2 tires – 2021, no TPMS
Corrosion-Free Rust proofed every 2-3 years
Well maintained, no smoking inside, ever
Full time 4×4
Heat, AC, power locks, key-remotes all work
Power windows work great
Class III hitch
Trailer Brake controller
OEM Roof rack
PIAA Brush lights
TRD Exhaust – and the original is available for inclusion
Blacked out trim
Blacked out wheels
Pioneer navigation deck
Windshield replaced 2020
New keys 2023
Remote start (never tried/used)
Brakes are good
Drivetrain is great
Suspension 2019
Snow tires on second set of rims (never used since getting K02s)
OEM bumper and other trim accessories available for inclusion
Most of it's life parked indoors/underground
It's a hodgepodge of trim packages as it's the final year that the FJ Cruiser was sold, and Toyota just grabbed whatever was left around the factory to put into this.
Crazy amount of fun in the snow, only ever got stuck once when it turtled, otherwise it's pulled lots of others out of ditches & mud, all they way up to a 2500HD (Conservation officer!) The K02 tires are simply awesome.
Work vehicle; Never off-roaded/raced/used for sport.
Interior definitely shows it's been well used.
Rock rails are sacrificial, and it shows.
One small pock on r.passenger door.
Mechanics complain that changing the oil filter cartridge is a PITA since they need to remove the front skid plate.
Selling because my company gave me an F150 Lightning. I will miss the FJ. A lot.